News release

---
Author Tony Garcia signs on the North Shore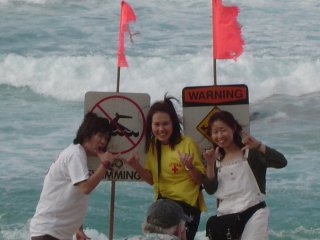 Honolulu, Hawaii - Febuary 1 - It was evening when I stepped off the plane at Honolulu International Airport. As I waited for the shuttle bus to take me to Waikiki I was in an expectant mood. I had left a flat and rainy California and there was a North Shore swell according to the online edition of the Honolulu Advertiser. So I checked into my hotel with sweet dreams of North Shore waves even though I still had a few things to arrange. I needed a surf board, but I figured I could rent one near the surf break. I also needed a bike since it's about one of the best ways to get around Oahu.
The next day I woke up bright and early and rented a bike, then went for a morning swim. It didn't look good, the sea behind the Duke Kahanamoku statue was choppy, so I swam in the sheltered cove in front of the Surfrider Hotel.
The bus dropped me and my bike off on the North Shore at Sunset Beach. I could see there was indeed a strong 6-8 ft. swell running accompanied by a brisk 15 knot Northwest wind, in short it was blown out. "You should have been here yesterday" were the only words of consolation heard at Sunset, Pipeline, Pupukea, Waimea, and Hale'iwa, but how many time have we all heard that before.
With surfing not an option other opportunities presented themselves - in particular to socialize with some of the North Shore residents.
One of the first contacts I made was with North Shore Lifeguard Fernando Santos at Ehukai beach or better known as 'Pipeline'. Fernando has a Dutch/Indo wife and is one of those unique individuals who puts his life on the line for his fellow man. Thanks guys!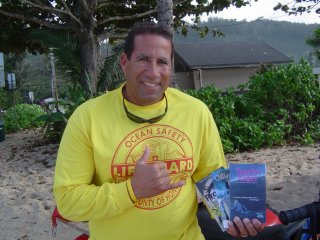 At a supermarket parking lot at Pupukea I met surfboard glasser Guy Frazer and friend Krishna Hemperly. It is amazing what kind of conversation starts to flow on a surf-less day; we talked about the fine points of Buddhism and Islam as the shoppers wheeled shopping carts to their cars.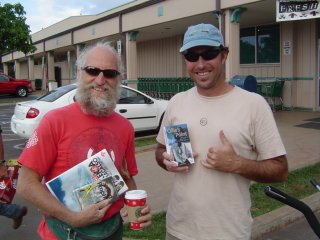 The one of the many high points of the trip was the encounter with beachboy Johnny Gomes at Canoes. He told the story of how Duke Kahanamoku surfed a wave caught somewhere off Diamond head clear across Waikiki to the harbor about 7 miles. He told me how Duke trained for the Olympics by racing boats that were going in and out the harbor. For me Johnny epitomizes the 'Aloha Spirit' that is still alive in Hawaii. Keep the faith Johnny!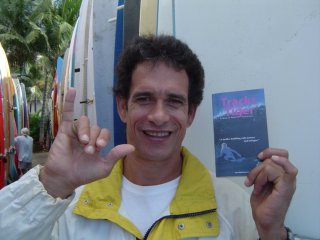 With no surf the following day there was some time to do a little shopping I bought a new Boardworks epoxy board at the Blue Planet surf shop. The ladies there really know their business. At Local Motion I picked up a FCS board bag for the new surfboard. Manager Frankie Thompson gave me excellent service and I left some books with him for the reading pleasure of his staff and coffee shop customers.
Aloha Oahu!
Blue Planet - www.blueplanetsurf.com/
Local Motion - www.localmotionhawaii.com
Book info - www.soldierboy.com