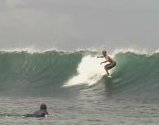 SoldierBoy is the leader in boarding sports fiction. In the coming seasons SoldierBoy will publish skateboard and snowboard titles along with its surf fiction.
Water, earth & snow – boarding sports are about exploring personal boundaries. They're not sports regulated by rulebooks. We who constantly develop our art form don't fit a mold. We develop our skills out of sheer pleasure and the desire to express ourselves in this marvelous world of ours.
SoldierBoy authors will do their best to make the experience of reading, the next best thing to doing it, the next best thing to being there!