News release

---
Ollie's Point launched at SurfExpo & ASR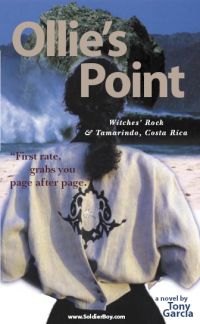 Orlando & San Diego - Febuary 1 - Surf travel adventure book Ollie's Point: Witches' Rock & Tamarindo, Costa Rica was launched at the recent SurfExpo in Orlando, Florida and ASR in San Diego. Ollie's Point is the second surfing book title to be released by author Tony Garcia and includes detailed surf maps of Costa Rica. This follows the October launch of Tracks of Tiger: G-land & Bali, Indonesia and both surf book thrillers can be ordered online at www.soldierboy.com or www.amazon.com.
Ollie's Point finds traveling surfer Bobby Cruz surprised to learn that he has a daughter in Costa Rica he was never aware of. She also has disquieting news that 'Contra' war criminal Chato Torres is killing once again in her village and Bobby must act.
For three days on consecutive weekends SurfExpo in Orlando and ASR in San Diego is a hive of activity where East and West coast surf/skate entrepreneurs meet to buy and sell and learn about the latest developments in their sports.
The victims of the Asian Tsunami were also high on everyone's mind and visitors of SurfExpo and ASR were generous in helping those in the disaster effected regions. Surf Aid International was among the charities on hand keeping people up to date with their efforts in the disaster zone.
Among those getting the first copies of Ollie's Point was surf/artist/author Mike Doyle.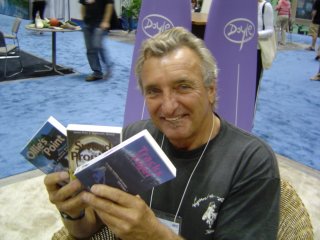 Orange Country shaper Jeff 'Doc' Lausch also got book copies.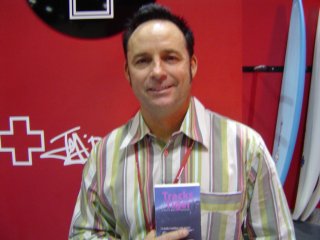 As did Steve Reuter of the Rescue Division of Surftech.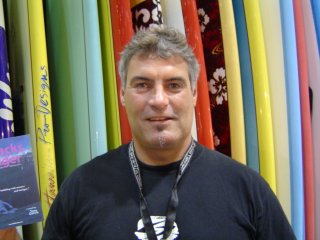 Before the impression is given that it was a West coast show both Roy Turner and Mike Duncan of North Carolina received copies of the books. They also featured in some of the most interesting sidebars of SurfExpo and ASR. The duo whose company is called Sage Island conducted seminars on marketing and search engine optimization, must for anyone who plans to market their products via the Internet.
In the coming weeks there are planned Ollie's Point book signings. Ollie's Point is the second in the series of surf books whose action takes place at some of the premier surf spots on the planet. Each copy of the book has detailed maps of the surf spots. This coming April will also see the launch of the latest book Sword of Prophet: Anchor Point & Taghazoute, Morocco.
SoldierBoy surfing book publisher based in Amsterdam, the Netherlands and Santa Monica, California and publishes in Europe and America simultaneously. SoldierBoy will always try to live up it promise to make reading its surf books - The next best thing to being there!
Advance copies of all books on surfing can be ordered order online at www.soldierboy.com and chapters of each book are also available on the website to read and review.
For info about ASR and SurfExpo:
www.asrbiz.com & www.surfexpo.com
For more about Surf aide International: http://www.surfaidinternational.org/
For more about Mike: www.mikedoyle.com or Jeff & Steve: www.surftech.com or Roy & Mike Sage Island: www.sageisland.com