News release

---
Book presentation for IDFA award winner Leonard Retel-Helmrich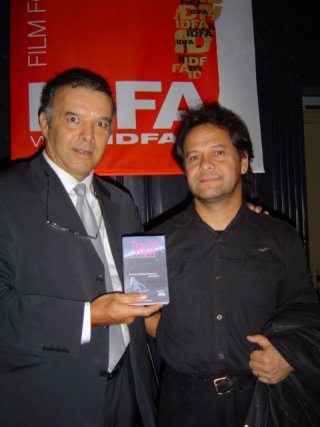 Amsterdam - November 29 - During the recent International Documentary Film Festival in Amsterdam (IDFA) author Tony Garcia presented the winner of the Joris Ivens Award 2004 Leonard Retel-Helmrich director of Shape of the Moon (2004) with copies of Tracks of the Tiger, Ollie's Point and Sword of the Prophet.

Shape of the Moon portrays the everyday struggles of a Jakarta family in modern day Indonesia. The Christian family must deal with questions of faith in a society of 240 million people, the largest Muslim nation in the world.
Author Garcia donated his time to work on the translation text for the film as he did for director's early work Stand of the Day (2002), which dealt with same family as they came to terms with life after the fall of dictator Suharto and the first free democratic elections held in Indonesia.
Shape of the Moon will also be featured at the upcoming Sundance film festival which has seen the success of a number of surf documentaries the most recent Stacy Peralta's film Men who ride Mountains (2004).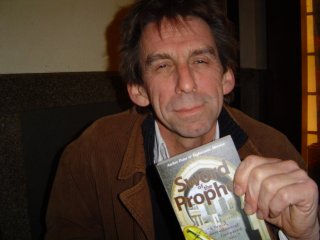 Also presented with a copy of Sword of the Prophet was Dutch film maker Roel van Broekhoven director of Purple Hearts (2004). The documentary tells a few of the stories of the 8,000 American soldiers who have been wounded in the war of Iraq.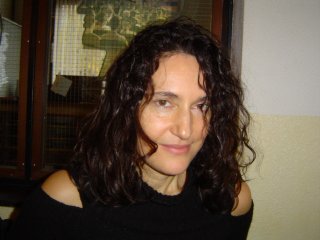 Also getting a copy of Tracks of the Tiger was director Matilde Gagliardo from Florence Italy who was visiting the IDFA to market her interview documentary.
Look for more book presentations as SoldierBoy publishers get ready to introduce the next book release, Ollie's Point: Witches' Rock & Tamarindo, Costa Rica.
For more info about books, www.soldierboy.com
For more info about IDFA www.idfa.nl/
For Shape of the Moon info www.scarabeefilms.com/